Award-winning sustainability
GRILLO-Werke AG awarded with "Deutschland Test" seal for sustainability
Nowadays, employees, consumers, business customers, suppliers, investors and society expect companies to use natural resources sparingly, demonstrate social responsibility and meet high ethical standards. Issues such as climate protection and adaptation to climate change are also one of the greatest challenges facing humanity in the 21st century.
For the study "Germany's Best – Sustainability" conducted by the IMWF Institute for Management and Economic Research on behalf of Focus Money, the sustainability reputation of 24,000 companies in 438 million German-language online sources including social media was examined and analysed using artificial intelligence methods. With the help of a neural network, the results were assigned to the three topic areas of ecological, economic and social sustainability and classified in a sentiment analysis into positive, neutral or negative tonality. The results were evaluated on an index scale of 0 to 100 points. Companies that were able to achieve at least 60 points were awarded the seal "Germany's Best – Sustainability".
GRILLO is far at the top of the ranking with 91.9 points.
For us, this award is further proof of the success of our long-term sustainability strategy.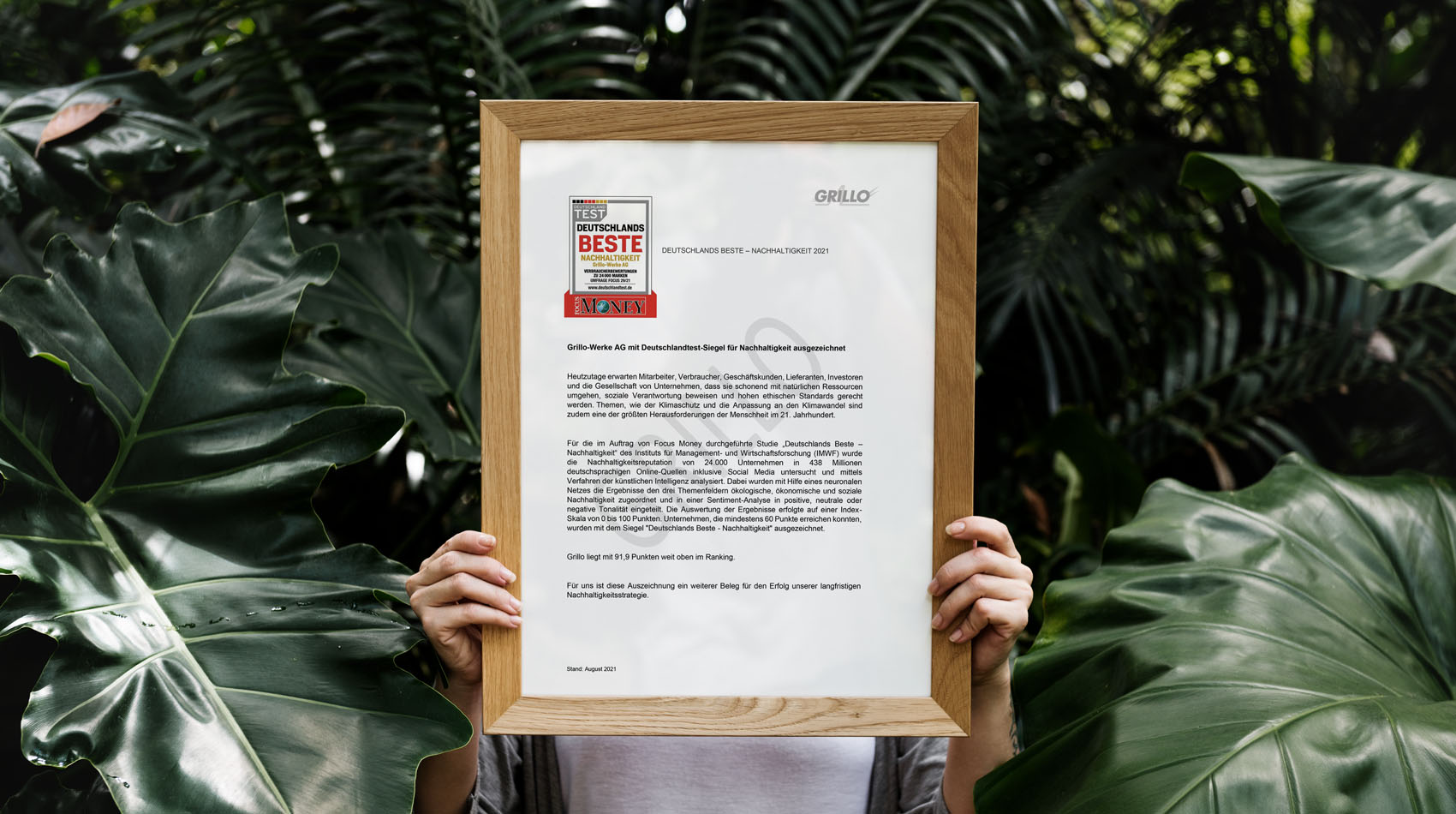 Together for a liveable and sustainable future
At GRILLO, we are convinced that sustainability is not a trend, but a necessity. We therefore aim to continuously improve our processes and products and make a positive impact on the environment and society. We rely on sustainable solutions such as ECO ZINC, a circular economy and CO2 reduced production to make our contribution to climate protection and create a future worth living.
We stand out in the industry due to our expertise and innovative strength. We offer tailor-made solutions thanks to our many years of experience in the production and development of chemical specialities and zinc products. We are keeping track with state-of-the-art technology through our own research facility and various cooperation projects. Our customers appreciate not only the quality of our products, but also our fast delivery and excellent customer service.
GRILLO media library: find out more!
From technical data sheets to detailed presentations and press articles – in our media library you will find all the details about our products and solutions for download.
Do you have any questions or do you need our advice?